I First got involved in Uechi-ryu karate in 1981 . . .

I dropped out in 1987, then got back into it after a 12 year hiatus in January of 1999. I received my first degree black belt in April 2001, and then in November of 1994 I received my second degree black belt. My wife Patty got her first degree that same day. On November 11, 2006, I tested for my third degree black belt before a board consisting of my own instructors, plus three Seventh degree masters from Charles Earle's dojo in Rhode Island. Patty and I both continue to practice as often as we can.

This style of karate comes from Okinawa and is very popular there, but actually originated about 100 years ago in China. It is named for Kanbun Uechi, an Okinawan who went to China around 1890 and studied for 10 years under a Chinese master named Tseshu-wa (sp?). After teaching in China for about 3 years, Kanbun returned to Okinawa and concealed his knowledge for several years before he finally began teaching. His first and foremost student was his son, Kanei Uechi. When Kanbun died in 1947, the style's named was changed from the Chinese Pangai-noon to Uechi-Ryu in his honor. Kanei Uechi remained the style's grandmaster until his death in 1989, when the title passed on to his son, Kanmei Uechi.
One of Kanei's first American students was Mr. Charles Earle, from Rhode Island. Mr. Earle passed away in the fall of 2006, with the rank of eighth degree black belt. My instructors, Gary and Jana Jones of Greenville, TX, are his students. Gary and Jana both hold Godan rank - fifth degree black belt. They are two of the most wonderful and supportive senseis you could ever ask for. Learning from them for the last eight years has been a very wonderful experience for me.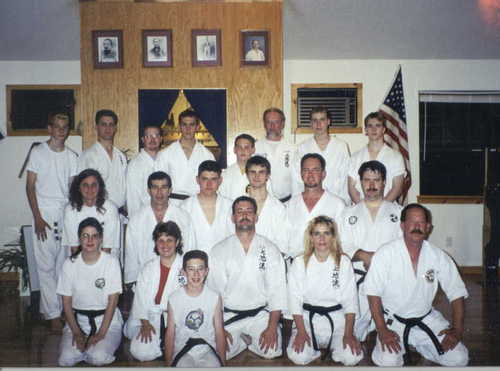 Here's a good shot of our whole class . . .
The night before the big black belt test, April 28, 2001. Gary and Jana are on the front row, kneeling, on the right. Master Earle is standing, third from the right, on the back row (beneath his own picture in our dojo). I am in between and directly behind Gary and Jana.